I woke this morning , after quite a reasonable sleep for a first night in Japan . I woke up and finished yesterday blog , and then went downstairs for breakfast of  meatballs and salad . Seems that my giving up sugar in coffee , has started some strange health kick , also decided to bypass the bread bin for the usual round or two if toast . So feeling full of energy , and convincing my new eating was giving me super strength , that or the fact i had 6 hours sleep , i bounded into the car camera at hand , ready to take on the world , or rather Niigatas finest .
           First stop today , was Kase koi farm . World famous for his doitsu and wierd metalics . Knowing i needed some doitsu showa  , and they seemed a little thin on the ground , it was agreed that this was the best way forward . I went to the big fish house , where we had three sansai reserved for us , doistu ochiba and doitsu metalic ochiba . The sandan ochiba sold off the website in literary minutes , and im happy to say , it looks way bigger than i stated , so someone has had a bargain ! The two metalic ochiba had massive frames for doitsu , so anyone looking for something different , try these ! The farm had some very nice shiros and doitsu metalics , and the quality was very high indeed , i soon had a bowls of doitsu metalics , goshiki , few doitsu showa and a couple shiros . The quality was way better than the normal picking pond , and the price a little higher , but well worth the extra ! I had some high quality doitsu and other things for the shop , very happy !
Sansai metalic ochiba 
Nisai doitsu showa , goshiki and doitsu metalic ochiba .
Nisai metalic ochibas , around 35cm 
Kase nisai doitsu metalic ochibas around 35cm . Shiro utsuri bred from white tiger bloodline from Omosako .
             So although we diddnt find doitsu showa , in the numbers i needed , im sure you will agree that we diddnt end up to badly . This seemed to be the trait of the day , visit a breeder to find something , and find it not there , but plenty of other nice koi . Next stop was Ikarashi Oozumi , where we where looking for Kikokoryu , and other differant koi.
            At arrival at the farm , it was evident he had just done a harvest . There was fish packed in every pond , just the way we like it ! But when i say packed , it was full of every thing except kikokryu ! Well , i looked through many ponds but diddnt see any that took my fancy , and no where near the quality we purchased last year . This breeder has quite a few ponds to select through at different prices . I ventured into a pond that i havnt bought much in before , due to the fact that these style of koi , dont demand higher prices that their gosanke counter parts seem to . But as i looked i was seeing some very interesting koi , one gin rin kin showa really stood out , and i soon had it bowled up , along with some gin shiro utsuri , gin rin gin shiro utsuri , goshiki , kin showa and a nice kujaku . I soon had a bowl full of nice differant koi , very happy and around 35 -40cm , once again , not what i was looking for , but just as happy ! 
Ikarashi nisai 
A quick stop in the 7-11 , and we were off to another one of my favourite farms , Hosokai . Once again i had some koi reserved for me , a sansai tancho showa , and some nisai around 45-50m , go sanke and goshiki . So was looking forward to seeing these , and adding some female go sanke into the mix . On arrival i sw the tancho showa and the nisai and was very happy , but once again , i couldnt find what i was looking for , but once again , there was some very different examples , such as doitsu kin showa , doitsu kin ki utsuri , some kujaku , tancho showa and a doitsu gin shiro utsuri . My bag of the wierd and wonderful was well and trulely over flowing . Once yet again i was very happy with what i had bought .
Showa and goshiki nisai , approx 45-50cm . 
Sansai tancho showa , female and around 55cm . Not sure whether to ship this , or leave in Japan for a year . Please contact me if you have interest in either option . 
Nisai goshiki and doitsu kin showa .
Doitsu gin shiro , tancho showa , kujaku , doitsu kin showa and doitsu kin ki utsuri .
After vidoes and pics were done , Hosokai had a harvest of sansai coming in , so we watched them unload , there were some awsome koi , mainly go sanke and tancho sanke . We said our good byes and made our way up to mushigame , where my frieds sanke and showa had been harvest at Tanaka Maruju . They were both very good , but the sanke was something else , it has been a point of chats  on many forums on face book , due to lack of beni pattern which is easily made up for in skin , body and sumi quality . The koi has improved no end once again , more sumi though and the quality was outstanding , ive seen this kois progress over the last few years , and from wondering why the hell he bought it , to becoming one of its biggest fans ! Very pleased for the breeder and my friend . From here , we popped into Shintaro and his fish were stunning , but wasnt around so we will return . Maruhiro then called to say he had been harvesting , so we went round to see what he had . As usual , it was heaving with koi and with customers . I tried to buy some more matsuba , after the gin matsuba i posted yesterday caused a lot of interest . But alas , they were no where near as good , so i passed and put them back . I then looked around for some bigger and female koi , i bowled these two up , but the light was getting bad , so i reserved them , and will return to view them again . These pics were taken by phone just for me to think about . Both can be shipped , or left in Japan , they are sansai , female and 65cm ish , huge bodies and Hinori says they will get BIG !
Maruten sanke , i really liked this , cant wait to the see it in better lighting .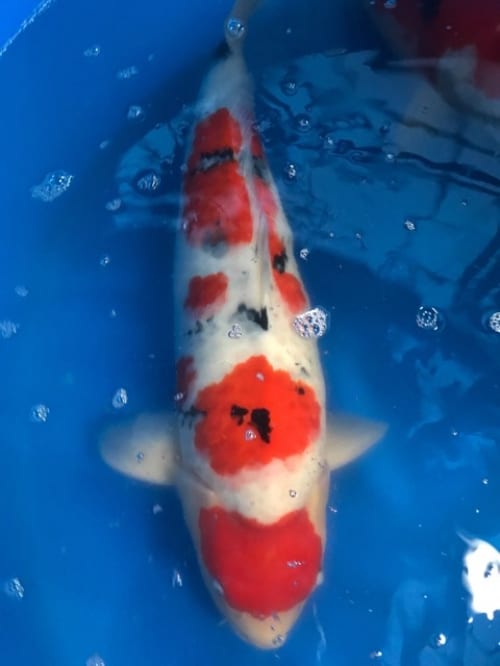 Another big framed sanke , not as high quaity as the other , but certainly as imposing .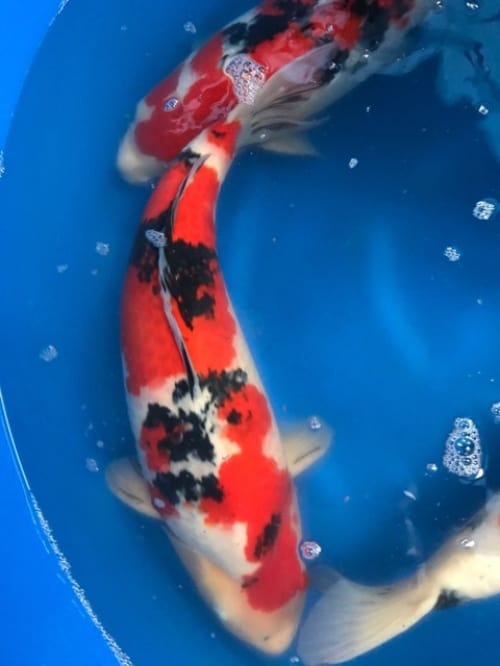 To all those awaiting go sanke , we have two days at breeders famous for their go sanke . So more for you guys tomorrow ! Until then ...................