Many people have been asking us to find all sorts of koi this year , so we have had to return to breeders that we havnt used for a while , so its been nice to renew old friendships . First appointment is at an old farm know as Suzuki , we were looking for goromo , and may be some doitsu koi . On arrival he took us into the fish house and there were nisai around 35-40cm , saw some goromo , that looked very nice , but also doitsu showa ! We have really struggled this trip to find any , so this was a real bonus ! Soon had around 30 koi bowled up , this fish house is a nightmare to work in , no room , always hot , tripping over things , and today as i walked over the filters , i sat down on a sofa to look at the koi and make my selection , i then heard a familiar   crack , and new what was coming next . The board broke in half and fell into the water , along with the sofa and half my leg ! i managed to catch my balance and save the camera and the sofa from all toppling into the pond , just escaped with a scratched leg and a damp foot . So after replacing the board , and restting the sofa , i made my selction , and soon had some 24 koi including , doitsu showa and sanke , and goromo . As we were taking the pics , it was notice one koi was deformed ,  so i had already returned  the unwanted koi , i took the oportunity to bowl a few more expensive goromo and selected a really nice one , with great skin quality !
Dont underestimate an old man , 25 years im pretty good with a net , after 30 mins i was flagging , he took over and ive never seen a net move so fast !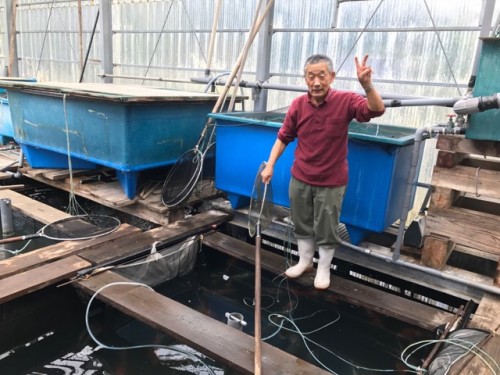 Although i love Niigata , health and safety is not a major consideration in building a fish house ! Just to give you an idea of space , or lack of it ..........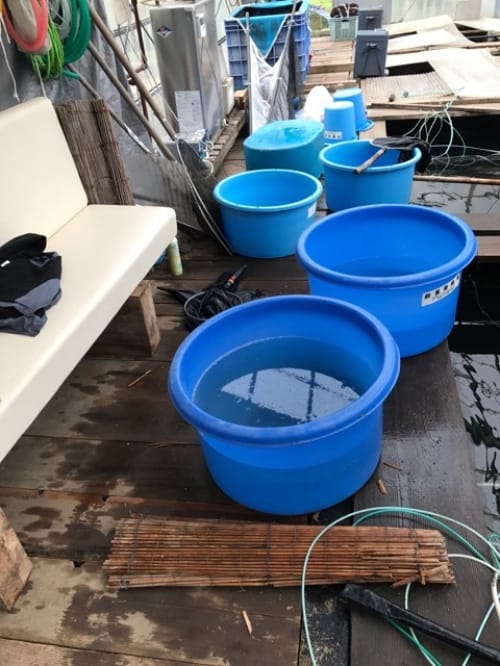 Just a few of the nisai we purchased from Suzuki .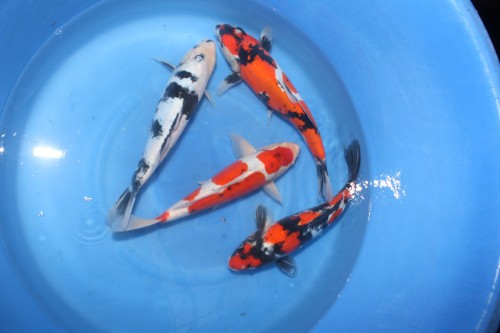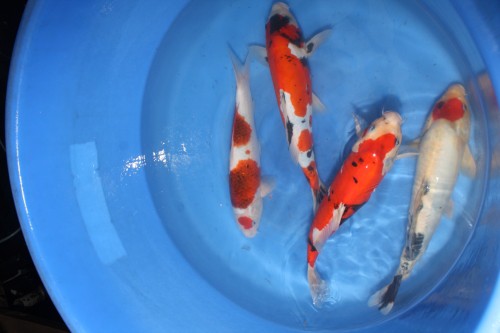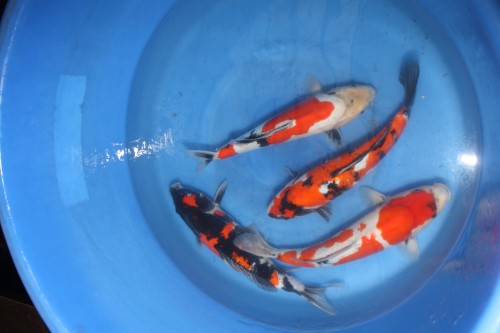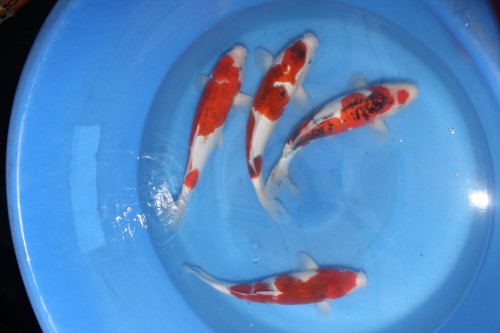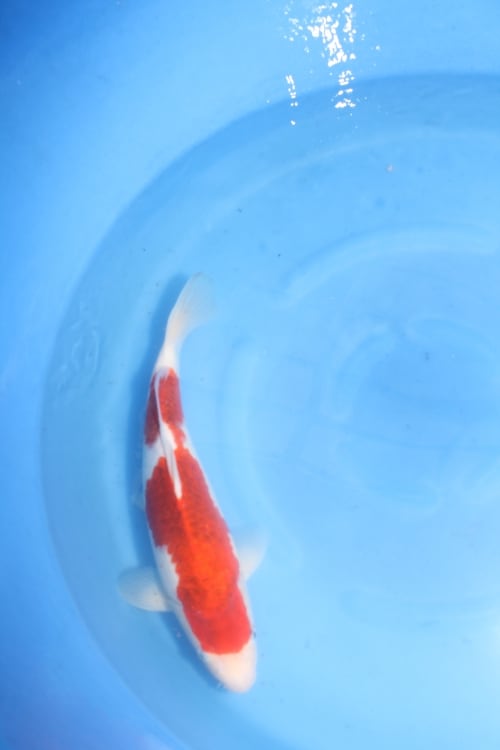 We headed back to Mushigame , and popped in to Sakai , to see if he was around , the farm was empty , so we had a look around and there was some amazing sanke to be seen . We left and then tried Torazo but he was still out harvesting . We called Oofuchi , and he said he was available . On the way over there , we passed another breeder Chogoro , we had been trying to catch up with him for the few days , but was always busy . As we passed by , he nearly walked in front us , so we stopped and picked some platinum ogons , they are stunning , like bars of silver , i have been asked by dealers to get some for them in the uk , i bought a box , but wish i had bought another , as i think they will sell out fast ! While i was there , i saw another koi swimming in another pond , a very interesting kikokoryu , i added that to the ogons and a price was agreed. .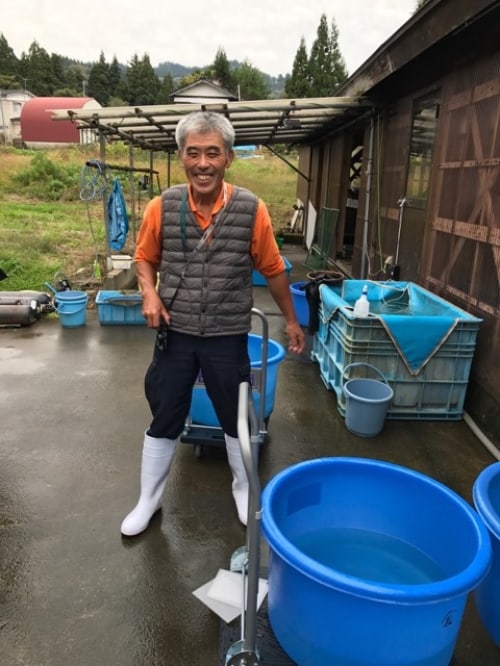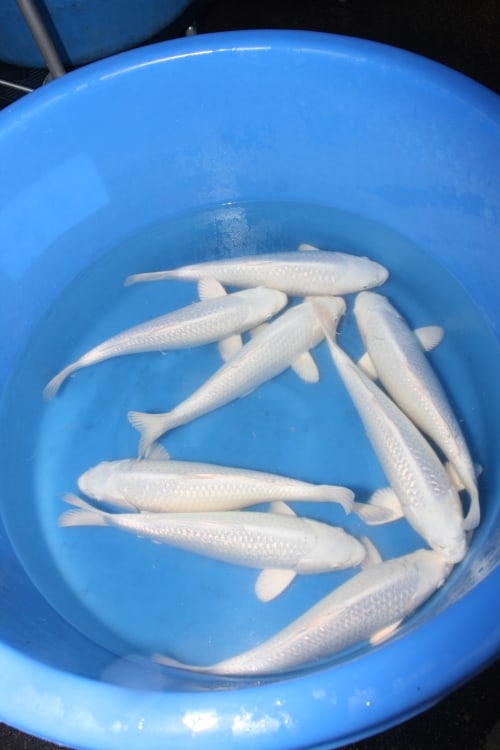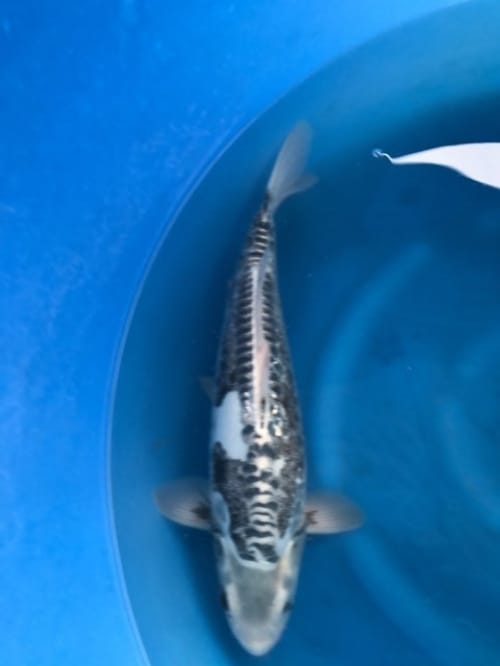 When we got to Oofuchi , they must have just harvested , as the main pond was rammed with koi .Every variety , tanchos , go sanke , shusui , hariwake , kumonryu , hajior and loads more . I started selecting , and soon had a few tancho sanke , should all be females , a stunning beni kikokoryu , two very nice kujaku , kumonryu and a fully scaled hariwake around 60cm , Very pleased with the koi , price wasnt too bad , so after a little haggle , i was the owner of 9 female sansai !
Nine sansai all female , 50-60cm , Kujaku slightly smaller .
Pricing the koi up ..................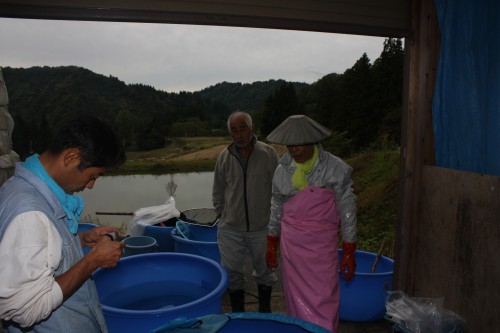 Late lunch , and as usual we did our best to keep 7-11 in business , and took a can of well deserved coffee . Another variety we are struggling to find is Goshiki , hardly any at Kase , few from Hosokai and one more to visit tomorrow . So a quick call to kawakami , and he said he had some available , so a 15 minute drive later , and we were bowling them up . Kawakami used to have a reputation of being cheap , but his goshiki have made him a very popular breeder , so thats not the case anymore lol ! Soon i had some nice goshiki and a kiki koryu  , the breeder offered to help sex them , i explained i was still going to buy them all , but customers want to know , he said he understood , 4 females and two males !! His nisai are much bigger this year , goshiki were around 40-45cm . 
Female goshiki and kikokoryu . 
Two male goshiki , both males , one old style goshiki , love the dark colour !
With lots of orders fulfilled today , i really needed some Kohaku , and knowing that Oyaji breeds them , and i like to visit to buy his gin matsuba , we drove over the top of the mountain to visit him next . His gin matsuba are simply stunning , serious quality and show potential no problem at all ! So we had a look through them , and the go sanke . A quick discussion about tosai , and we were off again . The gin matsuba were as fine as ever , but the kohaku were too small for what our customers want , so we left and headed down the mountain .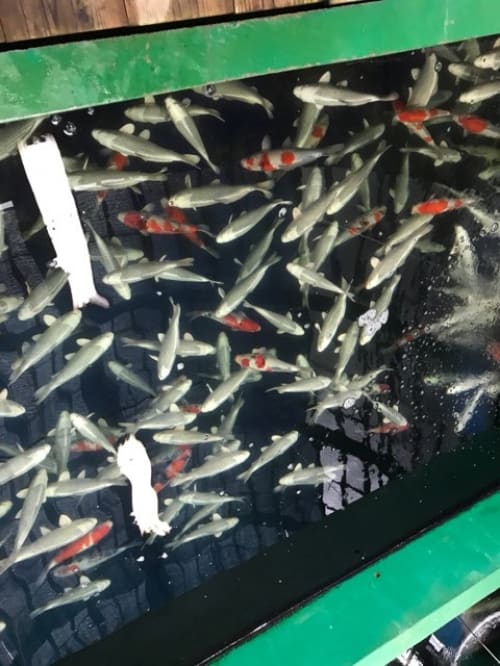 We  decided to visit Hinori of Maruhiro koi farm again . Told him our problem about kohaku , and he said its not a problem about kohaku , he took us to the upper ponds , and a deal was struck if we wanted to take them , but it was too late to check the quality , so we will return tomorrow in the day light  . A very good day , and lots of koi found for customers, dealers and the shop ! Tomorrow , is the humt for more goshiki , hariwake and kohaku , also some big chags and yamabuki ogons !