Ichi ban Ikeage  , ok loosely translated as number one harvest , that's because how it felt today at Maruhiro koi farm , not his number one , but mine . We had 8 koi left with him over the summer and they were all harvested today with outstanding results ! So back to the start of the day , we had to leave the hotel at 6.45 to meet Hinori at his facility , when I said the nght before I cant start that early with food , he took it seriously and when we arrived there egg sandwiches and boxes of juice for everyone , who says you cant drop a hint lol , but seriously it was handy as the hotel didn't serve breakfast until 7 ! We then drove up to the mudponds , the view is breath taking , and today better than ever , a mist just covered the tips of the trees . When we arrived the staff were alreadyin the pond with the seine net and  ready to go .This mudpond isn't particularly large , but its the one we use every year , I remember saying to Mark Gardner I think I should ask Hinori to put the sanke that came out last year at over 70 in a bigger pond , Mark replied why would you do that ? It grew 10cm as yonsai , be a good idea to leave it there again lol ! Don't you just hate it when Mark is right , first  koi out was the sanke and it looked huge , another kohkau came out the same , and every fish just looked massive . Its hard to be happy at this point , don't get me wrong im excited and glad they have all come out , but never happy when they are in muddy water and you cant see them clearly .The best part for me is when they are back at the facility and coming of the truck , into clean water for a good look over , and then the tale of the tape !!!!!!!  First off the truck was a two step kohaku , I nearly passed out when I saw it , it was huge and way beyond what I had expected , the quality was great and Hinori was just as excited as me . Purchased last spring as a 72 cm yonsai , it was now gosai and 81cm ! This koi was sold during the summer , and I guess the owner will be VERY happy !
Maruhiro 81 cm gosai kohaku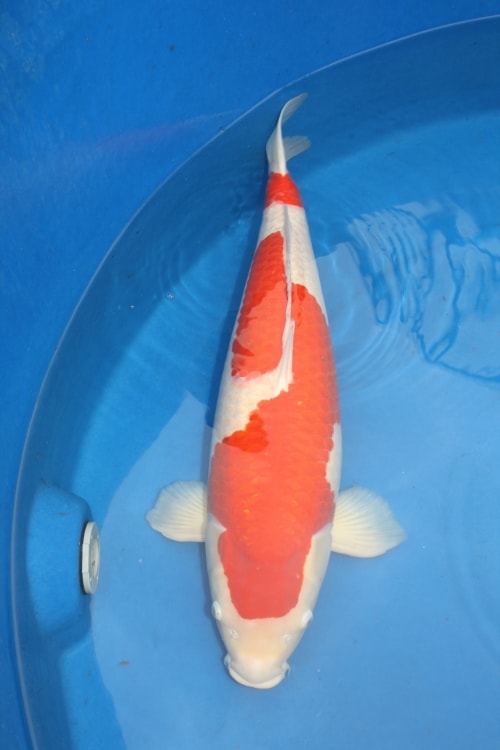 Next out was a 6 yr old sanke , purchased a few years back , very pleased for its new owner , just topped 80cm !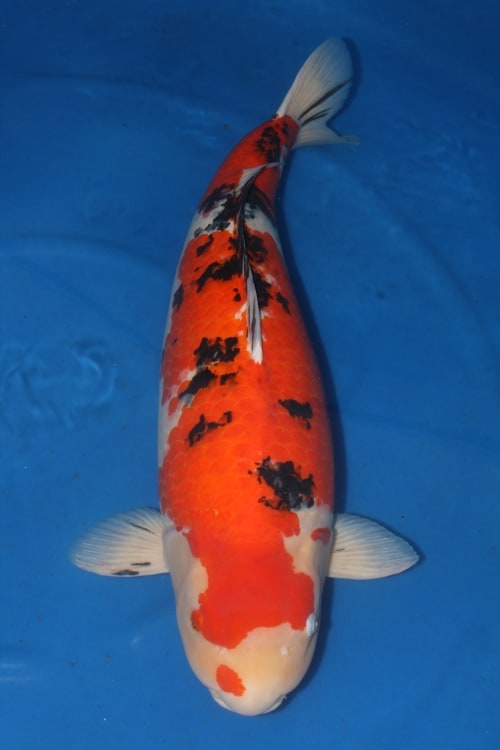 When I bought some of these back in the spring , a lot of people like the four step , but the sashi was pretty untidy in one place , this time it has tightened , and the already great body shape has got even bigger . Sorry about the pictures but the water was still rippling at the time . 65cm at yonsai , it was now 68cm , not great growth , but she really has put it on the body , so again very happy !
68cm gosai kohaku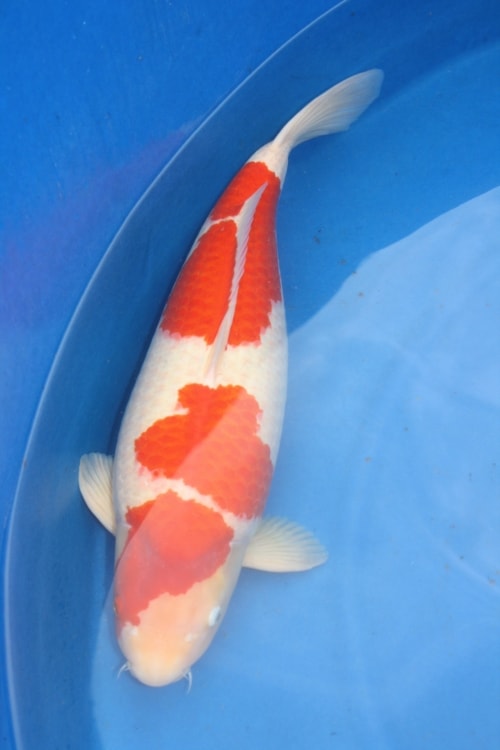 Another kohaku , this time 63cm sansai  purchased back in the spring  , and she did great in the  summer coming in at 72cm as yonsai .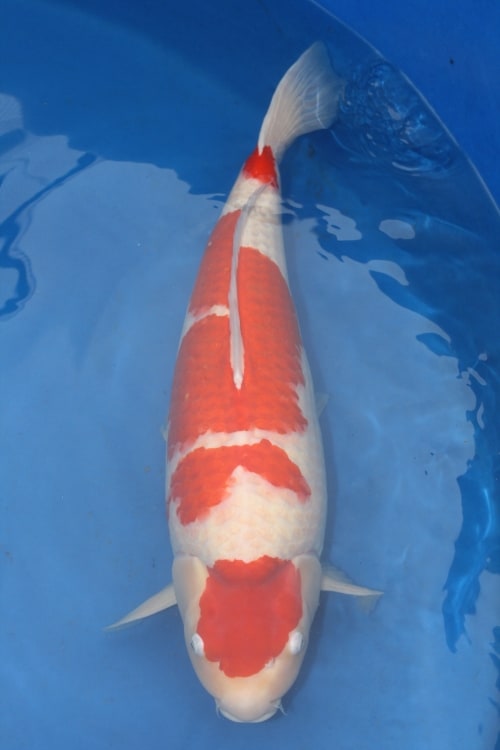 Showa purchased as sansai at 58cm , now 67cm so again very happy !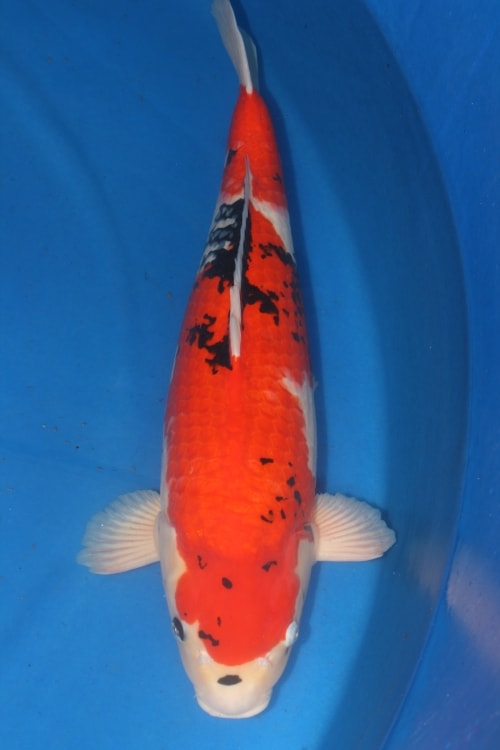 The next koi out was a sanke , this was nisai at 51cm , Hinori got quite excited about this one , came out at 61cm but with an amazing body shape , I think if this doesn't sell this week it will stay out in Japan . Ive always liked the pattern , and the breeder told me what would happen to the body in the mud pond , and it did exactly that ! Its great when you listen to a breeder , and he tells you this and that , and you think yeah yeah nice sales talk , but the more I listen , the better my azukari are coming out !
Sanke 61cm sansai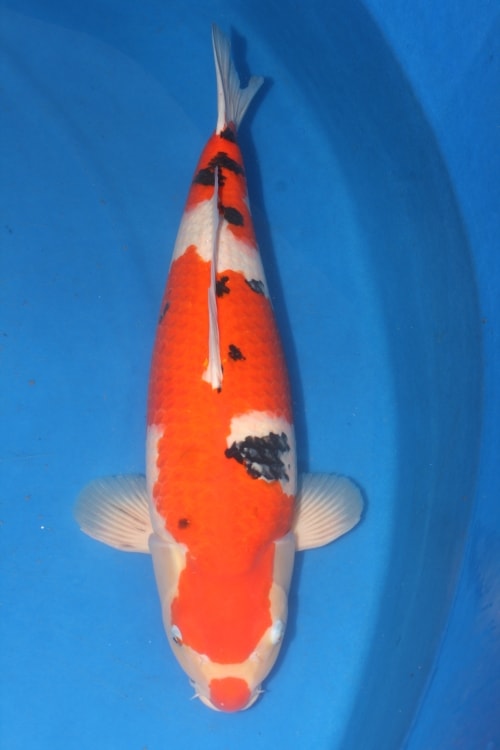 Next up was a sanke that I like the pattern of , this went into the mudpond at 56 sansai , now yonsai at 60cm , a little beni issue on the head which Hinori doesn't think will be a problem . Also looks like some sumi coming through on the shoulders , another one that may stay one more year .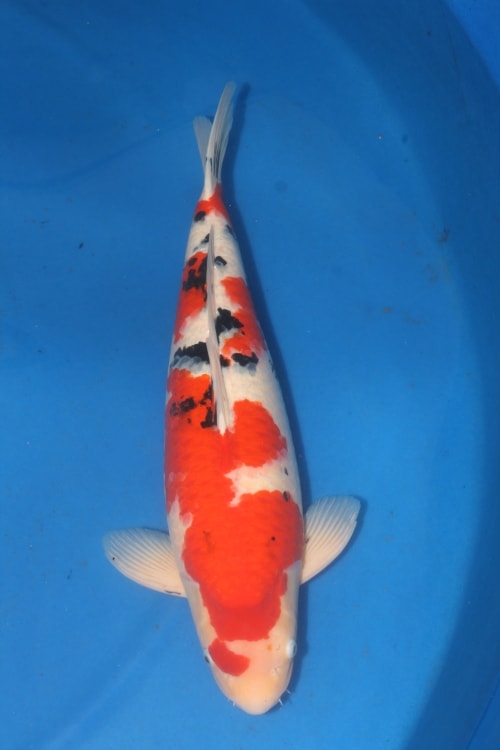 Last one for today was a sansai kohaku , went in the mudpond at 59cm and now yonsai 68cm , so grown well and the body has got way better . Red mark is anchor worm so wont be a problem .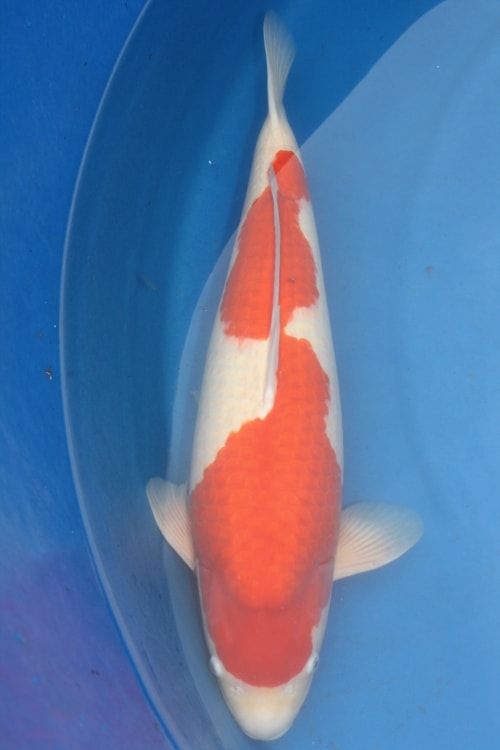 All in all , a very good experience , all the fish selected by myself in the spring , along with listening to Hinori sans advice . This breeder really is going places , by breeders standards still only young  , but has come long way in five odd years since parting company with his brother and father . The growths we have for have mostly been great , quality has held , but the main thing is the improvement of body shapes , I think we will soon hear a lot more of this man Today  we spoke today of a Maruhiro grand champion in the UK , im only too happy to help that come to reality , and with already one mature champion in the north of the uk this year , I hope its not too long away .
Man of the moment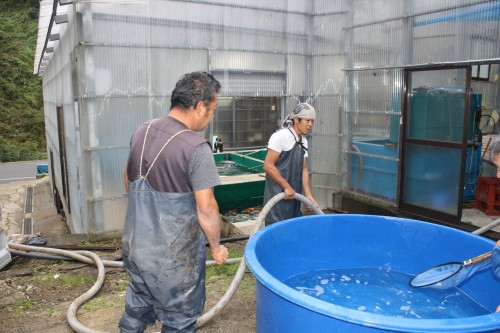 Another place we leave azuakri koi , is at Tanaka Maruju , he has a reputation of being expensive , but like most things , its fully justified . I could spend hours with Shigy San , he has a great sence of humour and is only to happy to explain his koi in great detail , and sometimes I see it and sometimes I don't , I look at koi at nisai , hear the orice and think has he gone crazy , then the next year I see the same koi and he laughs and says you should have bought it . Today was the day for my mauten kohaku , it came out great , has a little shimmie as you can see , breeder said it wont be there when shipped ! That's all im going to say about that . In my excitement today I totally forgot to write down what size it was , so ill edit later on . As were are shipping the Kohaku I decieded to buy two nisai to go with it , a female  kohaku with stunning skin quality , and a male showa with a cracking pattern ! Both around 45cm .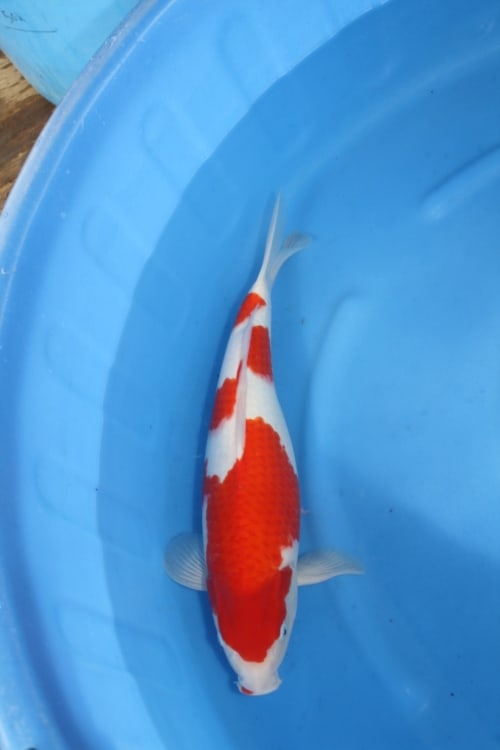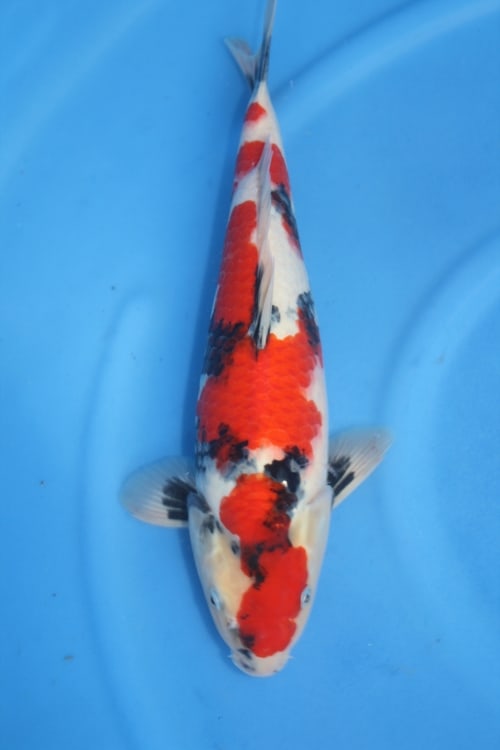 So all in all , a very good day ! You can that there are highs and lows in leaving ki in Japan , and sometimes big risks , but when it goes right its the best feeling in the world , hope this gives you some insight into the matter .
Forgot to say , in all the excitement , I forgot to mention  that earlier on in the day , we went to Shinoda , he plae was rammed pack with nisai , gin rin showa , hi utsuri , doitsu go sanke , some absolutely stunning varietys . I purchased a doitsu showa  , gin rin showa , some doitsu sanke , and a very high quality doitsu kindai showa . Also we have many chisai nisai for sale as well .
{gallery}blog/oct16/shinoda{/gallery}